-Online registration and hotel accommodation site is available.

- Advance Program is available.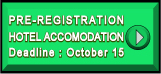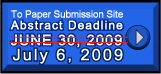 Final Call for Paper(468KB)

Abstract Deadline
June 30, 2009
Late News Paper Deadline
September 15, 2009
Registration Deadline
October 15, 2009
October 26, 2009
JJAP Deadline
November 30, 2009


Microprocesses and Nanotechnology play an important role of technical backbone for constructing the advanced information communications society with ubiquitous net works of the 21st century.
The MNC conference is now in its 22nd year and is intended to provide a forum for discussing lithography science and process technology using photon, electron, ion, other energetic particles and nanomaterials. This conference covers not only their applications to micro-and nano-structure fabrication and related physics and devices, but also their fusion applications with other fields like bio, medical information, and communication technology.

MNC 2010
November 9-12, 2010
Kokura, Kitakyushu, JAPAN

MNC 2009 Session Schedule.htm. update Nov. 11
MNC 2009 PROGRAM.pdf update Nov.r 11
MNC 2009 Technical Exhibition and Poster.jpg
Program Corection update Nov. 12
17A-3-1 15:40-16:10, November 17 Room A has changed to 13:20-13:50, November 18 at Room C.
Invited talk of Bio MEMS session.
''Controlling Cellular Microenvironments with

Microfluidics and Nanostructures (Invited)''
Prof. N.L. Jeon, Soul National Univ., Korea


November in Sapporo


Even in the plain areas of Sapporo, leaves turn red and the first snow of the year is observed. You should make sure to wear warm clothing. In the latter part of the month, when the romantic White Illumination begins, you will need coats and gloves.
Average Temperature: 4°C Maximum Snow Accumulation: 13 cm


Registration Desk
(Online registration was closed. Please avail on site registration at conference site.)
16:30- 18:30, November 16
8:30 - 18:00, November 17
8:30 - 19:00, November 18
8:30 - 15:30, November 19

Internet Space
We prepare ''Line'' at lobby.

Tel Number of Secretariat (November 17-19)
Tel: +81-11-893-2679   (Tel: 011-893-2679)

MNC 2009 SCOPE and SYMPOSIUM
1-1:DUV, EUV Lithography and Metrology
1-2:Electron- and Ion-Beam Lithography
1-3:Resist Materials and Processing
2-1:Nanodevices
2-2:Nanofabrication
2-3:Nanomaterials
2-4:Nano-Tool
3:Nanoimprint, Nanoprint and Rising Lithography
4:Bio MEMS, Lab on a Chip
5:Microsystem Technology and MEMS

Symp. A. Computational Lithography
Symp. B. Graphene: Growth & Characterization

Sponsored by
The Japan Society of Applied Physics

Committee Chairs:
Organizing Committee Chair:
 S. Shoji (Waseda Univ.)
Steering Committee Chair:
 T. Itani (Selete)
Program Committee Chair:
 T. Meguro (Tokyo Univ. of Sci.)