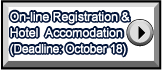 On-line early registration and hotel accomodation site is availablen now.

---

---

---
We strongly recommend you to secure an accommodation as early as possible as November is the tourist period in Kyoto.

To Author
As for notice of acceptance or rejection, we will inform you by e-mail around August 10, 2016.

---

MNC 2016 Announcement


Abstract Deadline
July 1, 2016
July 6, 2016

---
Late News Paper Deadline
September 15, 2016


---
Registration Deadline

October 18, 2016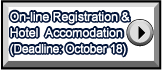 ---
Abstract will be published online
October 31, 2016


---
JJAP Special Issue Deadline
November 30, 2016


---
Next Conference
November 5-8, 2017
Jeju Island, Korea

About MNC 2016

Microprocesses and Nanotechnology play an important role of technical backbone for constructing the advanced information communications society with ubiquitous net works of the 21st century.
The MNC conference is now in its 29th year and is intended to provide a forum for discussing lithography science and process technology using photon, electron, ion, other energetic particles and nanomaterials. This conference covers not only their applications to micro-and nano-structure fabrication and related physics and devices, but also their fusion applications with other fields like bio, medical information, and communication technology.


1.Lithography and Related Technologies and Metrology
 1-1: Advanced Photolithography
 1-2: Electron and Ion Beam Technologies
 1-3: Resist and Directed Self-Assembly
2:Nanotechnology
 2-1: Nanocarbons
 2-2: Nanodevices
 2-3: Nanofabrication
 2-4: Inorganic Nanomaterials
 2-5: Organic Nanomaterials
 2-6: NanoTool
3: Nanoimprint, Nanoprint and Rising Lithography
4: BioMEMS, Lab on a Chip
5: Microsystem Technology and MEMS
Symp. A: Metrology and Inspection for Advanced Patterning
Symp. B:

Forefront of Graphene & Related 2D Materials


Symp. C:Nanosensors and Their Promises for IoT Society
Symp. D: Innovation from Open Facility
Prof. Lars Liebmann, GLOBALFOUNDRIES, USA
Prof. Kaustav Banerjee, UCSB, USA
Dr. Sang Yoon Lee, Samsung Advanced Inst. of Technol., Korea